In this time of uncertainty due to COVID-19, supporting local non-profits has never been more important. As you make essential trips to the grocery store, you can purchase a $2.50 reusable Community Bag at the
Winn Dixie located at Pine Wood Way in June to send
Crime Stoppers of Suwannee County
a $1 donation.
PLEASE GO TO OUR WINN DIXIE LOCATED AT PINE WOOD WAY AND SUPPORT OUR PROGRAM
YOUR DONATION GOES TOWARDS YOUR LOCAL PROGRAM
DURING THIS TIME OF UNCERTAINTY WE ALL NEED TO BE AWARE OF SCAMS, FRAUD, AND PHISHING EMAILS ABOUT THE
CORONAVIRUS (COVID-19) PANDEMIC
THIS INFORMATION WAS TAKEN FROM THE FBI PUBLIC SERVICE ANNOUNCEMENT
MARCH 20, 2020
FAKE CDC EMAILS:
Watch out for emails claiming to be from the Centers for Disease Control and Prevention (CDC) or other organizations claiming to offer information on the virus. Do not click links or open attachments you do not recognize. Fraudsters can use links in emails to deliver malware to your computer to steal personal information or to lock your computer and demand payment. Be wary of websites and apps claiming to track COVID-19 cases worldwide. Criminals are using malicious websites to infect and lock devices until payment is received.
Look out for phishing emails asking you to verify your personal information in order to receive an economic stimulus check from the government. While talk of economic stimulus checks has been in the news cycle, government agencies are not sending unsolicited emails seeking your private information in order to send you money. Phishing emails may also claim to be related to:
Charitable contributions

General financial relief

Airline carrier refunds

Fake cures and vaccines

Fake testing kits
To read and find out more information.
IF YOU SEE ANYTHING THAT DOESN'T QUITE FEEL RIGHT CALL OUR TIPS LINE 24 HOURS A DAY
208-8477(TIPS)
IF YOU WISH TO REMAIN ANONYMOUS.
YOU CAN AND WILL MAKE A DIFFERENCE!
REMEMBER SEE SOMETHING SAY SOMETHING!
CALL OUR TIPS LINE 208-8477 (TIPS)
REMEMBER YOU ARE THE EYES AND EARS OF OUR COMMUNITY, GET INVOLVED BUT YOU CAN STAY ANONYMOUS. HELP PREVENT A CRIME IN YOUR AREA.
ATTENTION STUDENTS IN
SUWANNEE HIGH SCHOOL,
BRANFORD
HIGH SCHOOL AND
SUWANNEE MIDDLE SCHOOL
YOU CAN NOW SUBMIT A TIP USING OUR
YOU CAN REPORT PLANNED VIOLENCE
AND WEAPONS ON YOUR CAMPUS SAFELY AND
NOT
BE IDENTIFIED
WE DO NOT WANT YOUR NAME JUST YOUR INFORMATION KEEP YOUR CAMPUS AND YOUR FRIENDS SAFE REMEMBER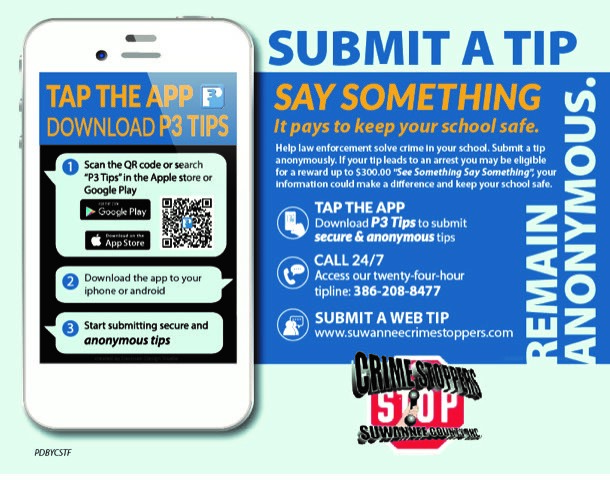 THIS IS THE
ONLY
WAY YOU WILL REMAIN
ANONYMOUS
386-208-8477
PDBYCSTF