IT'S A NEW YEAR AND MOST OF US CREATE RESOLUTIONS HOW ABOUT A FEW
Here are a few suggestions to get you started.
I resolve to:
lock my car doors, and put belongings out of sight every time I park my car.
close my garage door at all times when not in use, even if I am working out in my yard or leaving the area for a short time.
trim trees and shrubs around my home so doors and windows are visible to neighbors from the street.
ask for valid ID or credentials before letting anyone in my home I don't know.
watch out for my neighbor's house and property when they are away. If I see suspicious activity, I will notify the police.
work together with my neighbors and law enforcement by being watchful to prevent crime in my neighborhood. Join or start a Neighborhood Watch group.

REMEMBER IF YOU SEE ANYTHING THAT DOESN'T LOOK RIGHT OR SOUND RIGHT CALL OUR TIPS LINE.
CALL OUR TIPS LINE 208-8477 (TIPS)
IF YOU SEE ANYTHING THAT DOESN'T QUITE FEEL RIGHT CALL OUR TIPS LINE 24 HOURS A DAY
208-8477(TIPS)
IF YOU WISH TO REMAIN ANONYMOUS.
YOU CAN AND WILL MAKE A DIFFERENCE!
REMEMBER SEE SOMETHING SAY SOMETHING!
CALL OUR TIPS LINE 208-8477 (TIPS)
REMEMBER YOU ARE THE EYES AND EARS OF OUR COMMUNITY, GET INVOLVED BUT YOU CAN STAY ANONYMOUS. HELP PREVENT A CRIME IN YOUR AREA.
ATTENTION STUDENTS IN
SUWANNEE HIGH SCHOOL,
BRANFORD
HIGH SCHOOL AND
SUWANNEE MIDDLE SCHOOL
YOU CAN NOW SUBMIT A TIP USING OUR
YOU CAN REPORT PLANNED VIOLENCE
AND WEAPONS ON YOUR CAMPUS SAFELY AND
NOT
BE IDENTIFIED
WE DO NOT WANT YOUR NAME JUST YOUR INFORMATION KEEP YOUR CAMPUS AND YOUR FRIENDS SAFE REMEMBER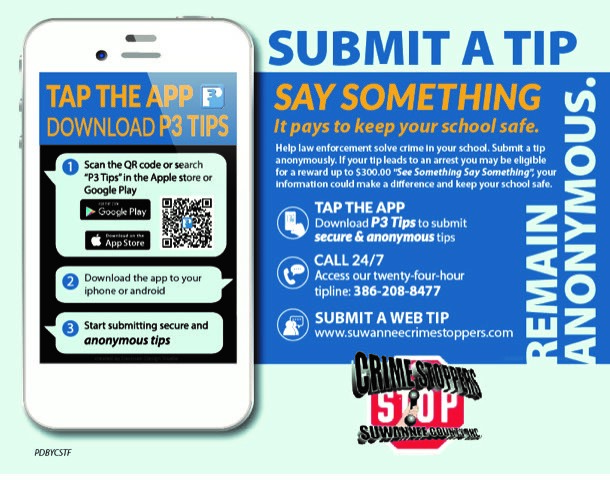 Is Sharing Some Back To School
From the National Safety Council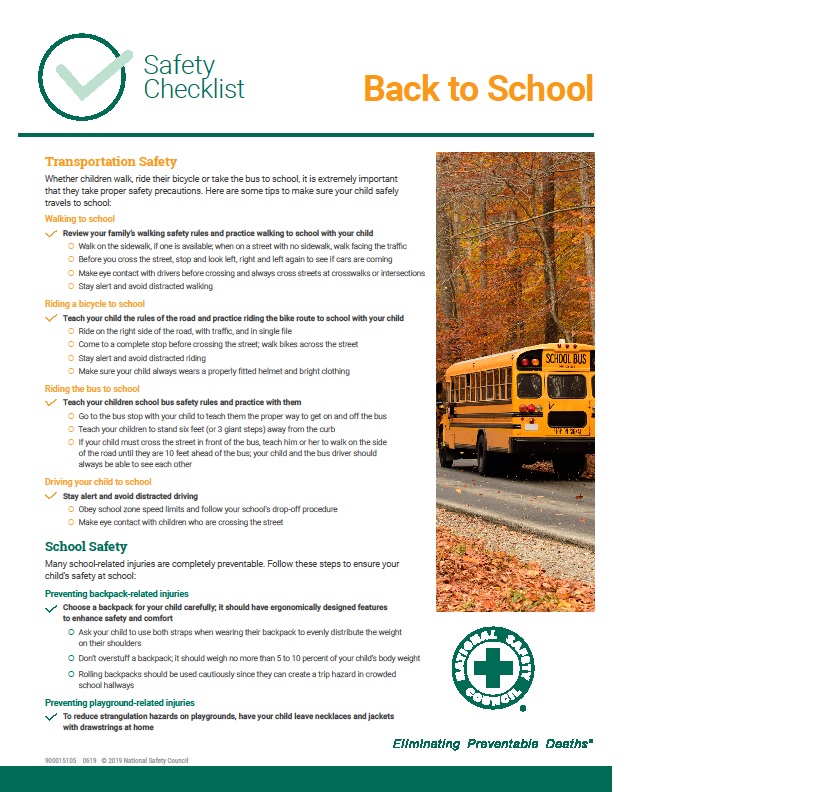 Here's hoping for a happy and safe school year.
THIS IS THE
ONLY
WAY YOU WILL REMAIN
ANONYMOUS
386-208-8477
PDBYCSTF